Searching for wholesale art products for your retail shop?
Start your search for wholesale art products right here
Buy Wholesale Art direct from our online wholesale store. Browse our extensive Wholesale Art Catalog. Wide Range. Great Art at Wholesale Prices. Global Shipping. Buy & Save!
Bali is a small island, with a large concentration of artists, working with a variety of mediums, from stone, to wood to canvas. There are so many different kinds of Bali art styles and themes, there is something to suit every taste and budget.
Art is a very personal expression and each artist has his or her own unique style. It is not necessarily what springs to mind when thinking of a wholesale product, as it is not something that is produced in bulk. Having said that however, there are many ways to deal with wholesale art products.
Finding quality art wholesale and  art suppliers in Bali can be confusing, as there is so much choice. Bali Products provides overseas buyers seeking to find and purchase quality Bali art at wholesale prices with a complete one-stop on-island wholesale sourcing agency service.
As a sourcing agent for Bali wholesale products, we will seek out and find quality wholesale art suppliers and art products to meet your specifications.
As a wholesale buying agent, we are able to purchase on your behalf any art products to ensure the best wholesale prices, terms and conditions. Our aim is to make finding and buying wholesale art products from Bali as problem free as possible.
You can check out all of the different types of Wholesale Bali Pictures, Bali Paintings & Bali Art we sell directly online, and our Wholesale Buyers Private Label Services by clicking on our Pictures, Paintings & Art Catalog on the side bar.
How it works
You inform us what type of art products that you would like to purchase, and if you would like us to arrange a wholesale buying trip for you.
We will source and prepare in advance of your arrival a list of potential wholesale art suppliers and vendors, and we will arrange a scheduled buying trip for you to visit these galleries.
Should you choose not to come to Bali, we will send you this sourced information, and upon confirmation with you, will act as your local agent to negotiate and purchase art products from these suppliers, on your behalf.
It is advisable to come to Bali at least once, to get an idea of what is possible, and to be inspired by what you see. Once you have done this, you will not need to keep coming back. We can handle all aspects of ordering and shipping your art product to you.
To find out more about the wholesale sourcing and buying services we offer art buyers, please take a look at our Product Sourcing & Buying Services.
Types of wholesale art products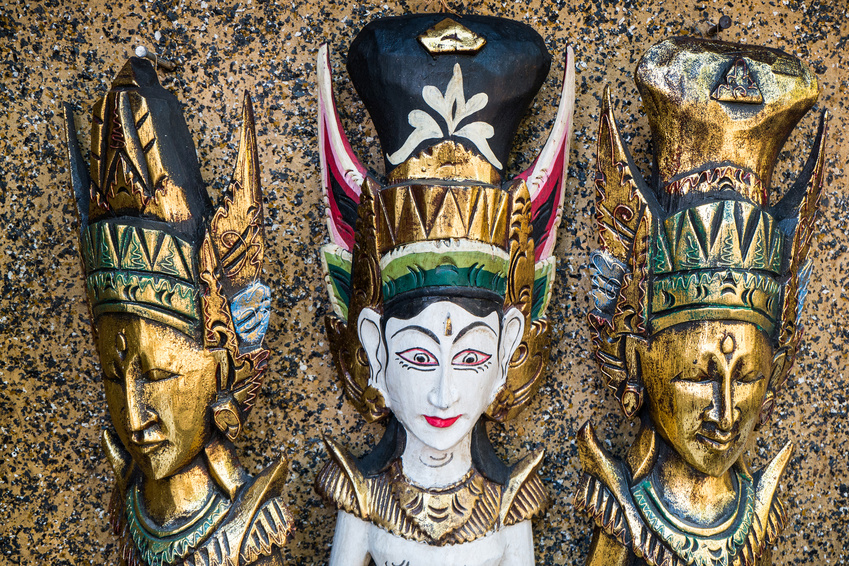 There are many different types of art  being produced  in Bali, as well as on other islands in Indonesia. Some of the most popular art products include stone carvings, wood carvings, paintings and photography.
The interesting thing about the art from Indonesia, and Bali in particular, is that each city or region has its own very distinct art style. Some styles are even unique to one particular family.
There are general themes that are recurring in many of the paintings, such as landscapes, religious images and historical themes. The rice terraces are often featured, as their beauty and sculpted forms have been a preoccupation with many artists over the years.
There are many traditional styles of art available, as well as more modern styles. With the influences of the west came new styles of art work, that are just as fascinating, as the old is combined with the new to create amazing works of art.
The talented artists will also accept made to order customized orders, if you have a specific art design style that your customers are looking for.  To learn more about the customized art product and design services we provide art wholesale buyers in Bali, please take a look at our Custom Made & Design Services.
You can check out all of the different types of Wholesale Bali Pictures, Bali Paintings & Bali Art we sell directly online, and our Wholesale Buyers Private Label Services by clicking on our Pictures, Paintings & Art Catalog on the side bar.
Ordering and shipping
Ordering art wholesale products can be a wonderful experience, with the right guidance. We can take you to see the best art suppliers and you can spend time choosing what your customers would like. Alternatively you can send over images of what you are looking for and we can source them for you.
If you are ordering customized paintings, you will need to allow time for the paintings to be made. This will vary from place to place, as well as the time of year, so make sure you take this into account when planning.
Shipping can be done by sea or by air. There are several shipping companies on the island and we can help you with this too.
To find out more about the quality control and exporting services we offer wholesale art buyers purchasing art from Bali, please take a look at our Bali Exports & Quality Control Services.
Our wholesale product catalogs
You can see the complete range of all of the different types of Wholesale Products we sell – Wholesale Fashion, Wholesale Clothing, Wholesale Belts, Wholesale Beads, Wholesale Silver Jewelry, Wholesale Corporate Gifts, Wholesale Aromatherapy, Wholesale Jewelry, Wholesale Home Decor, Wholesale Shoes, Wholesale Bags, Wholesale Handicraft, Wholesale Candles, Wholesale Sarongs, Wholesale Furniture, Wholesale Art, Wholesale Fabric etc. and our Wholesale Buyers Private Branding & Label Services etc. – and much more – by clicking on any of our catalogs in All Our Catalogs link.
So want to see our catalogs and see what you can buy online? Check out our extensive product range. You can browse all of the products we have for sale by browsing all of our online shopping stores catalogs on the side bar.
And if what you are looking to buy can't be found in our own Online Shopping Store Catalogs, don't worry…..we will either source it for you, design it with you, or arrange to have it made by one of our quality vendors!
So find out why we are the Number 1 Online Shopping Stores Website & Sourcing Agency in Bali & Indonesia. Give us a call or send us an email. You will not be disappointed!
We look forward to welcoming you as one of our valued clients.
The Bali Products Team