Shopping for Bali aromatherapy, spa & yoga products?
Find out why we are the no.1 online shopping store worldwide for aromatherapy, spa & yoga products from Bali
Shopping for Bali Aromatherapy? Look no further! We sell the very best Bali Aromatherapy, Spa & Yoga items at the best prices. Browse our extensive catalog. Wholesale & retail. Worldwide shipping. Shop & Save!
Bali is a beautiful tropical island, which attracts thousands of visitors to its shores every year. The unique culture and stunning white sandy beaches are a big draw for people from all over the world. The Balinese people have such a lovely, happy and relaxed nature, and all that visit this island cannot help but be affected.
Spending a few days or weeks in Bali will help you forget your worries and allow you to relax and unwind. There are many ways to do this, from lounging by the hotel pool  to lying on the beach, or visiting one of the many spas where they are waiting to pamper to your every whim.
Bali spa
If its relaxing you are interested in, there are an abundance of spas on the island, designed to help you do just that. These spas offer a range of treatments that will help you look and feel wonderful. The traditional Balinese massage will penetrate deep in to your muscles, rubbing away all your tension, and leaving you feeling like you are walking on air.
There are packages on offer where you spend the whole day in the spa, being completely pampered from head to foot. They will massage, scrub and even bathe you. This is the perfect way to unwind at the beginning of your holiday. It is also a great way to prepare for a special occasion such as a wedding or a party.
Many spas create their own natural products, made from traditional recipes that have been handed down through the generations. You can check out more information on the different types of spa products from Bali by clicking here on our Spa Product link.
Bali aromatherapy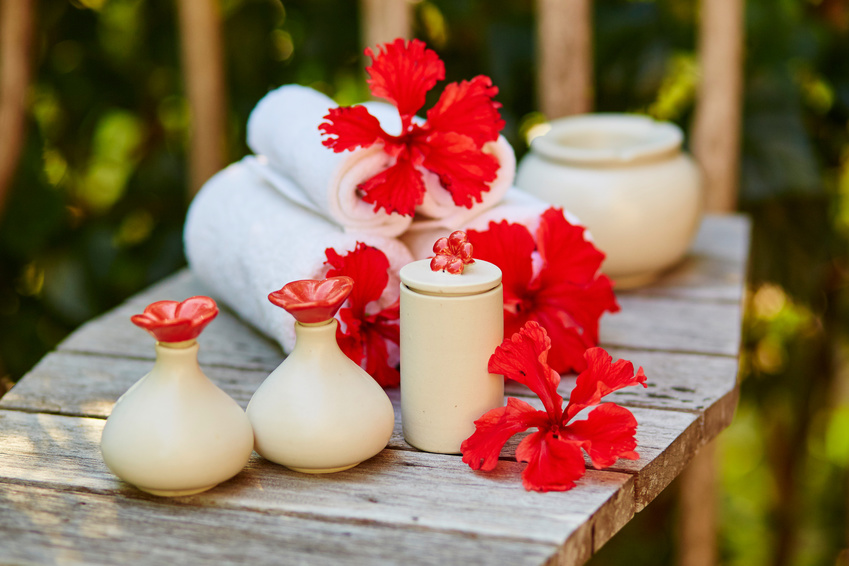 Many spas in Bali incorporate the use of aromatherapy in their treatments. By using essential oils in various ways, the spa experience is taken to another level. There are many Bali aromatherapy oils that can be used for massaging, that help penetrate deeper in to the muscles, as well as providing a wonderful smell. Find out more about the types of Bali aromatherapy oils used, by clicking on our Aromatherapy Oil and Aromatherapy Massage Oils pages.
Some spas like to burn the oils in the corner of the room, to create a relaxing atmosphere. Going to a Bali spa is a explosion of the senses, just stepping over the threshold brings you to another dimension. The smells of the oils waft in the air, by the use of infusions as well as scented candles. To learn more about these scented Bali aromatherapy products, visit our Aromatherapy Product, Bali Aromatherapy Products, Aromatherapy Candle, Aromatherapy Incense and Aromatherapy Oil Burner pages.
When you visit a Bali spa, you will find the lighting is kept low, and soft music will be playing through the speakers. Everything is very carefully planned to make sure you have the most enjoyable and relaxing experience possible. All this can be recreated in your own home by purchasing a few of the Bali aromatherapy products we have on offer.
Yoga in Bali
Another way to relax and unwind is by practicing yoga. This ancient form of exercise is a wonderful way of clearing the mind and stretching the body. Bali has become a yoga paradise with people flocking here to live a clean life of yoga and healthy eating. Many retreats are offered every year as well as festivals that promote wellness and spiritual awakening,
If you are interested in yoga, Ubud is the place to go as it is full of yoga centers and like minded people. If you have never tried yoga, but are wanting to start, you do not need much equipment to get started. A yoga mat is essential, as well as the right type of clothing.
It is important that you wear comfortable clothes, which allow you to move freely. Yoga involves a lot of stretching, so the clothes you wear will need to be soft and supple. You can find out more information about yoga clothing in general by visiting our Yoga Clothing page, and about specific yoga clothing by visiting our Yoga Pants, Yoga Socks, and Yoga Sandals pages.
A yoga mat will provide support under your feet and back while you are performing floor exercises. For more information about what type of yoga mat to choose check out our Yoga Mat page. If you have specific needs for a yoga mat, you can have one custom made. To find out more about what is possible, take a look at our Custom Made Yoga Mats page
A yoga towel is good to have to wipe the sweat from your eyes after a hard yoga class, and you can see what options there are by visiting our Yoga Towel and Yoga Blanket pages.
Yoga bags are good for keeping all your bits and pieces together, and there are many options available. You can see the options and find out more information about mats and mat bags by clicking on our Yoga Bag and Yoga Mat Bag pages.
Yoga does not require much equipment, but a yoga ball is a good way to add an extra dimension to your yoga work out. You can find out more about the types of yoga balls available by visiting our Yoga Ball page.
For general information about all products connected to yoga, take a look at our Yoga Products page.
Buy from our Bali aromatherapy, spa & yoga catalog
You can check out all of the different types of Bali Aromatherapy items we sell – such as oils, incense, oil burners etc. and Bali Yoga Products – such as yoga pants, mats, clothing, bags, towels etc. and Bali Spa items – such as Candles, Massage Oils, Soaps etc. and much more – by clicking on our Bali Aromatherapy, Spa and Yoga Catalog on the side bar.
So want to see our catalogs and see what you can buy online? Check out our extensive product range. You can browse all of the products we have for sale by browsing all of our online shopping stores catalogs on the side bar.
And if what you are looking to buy can't be found in our own Online Shopping Store Catalogs, don't worry…..we will either source it for you, design it with you, or arrange to have it made by one of our quality vendors!
So find out why we are the Number 1 Online Shopping Stores Website & Sourcing Agency in Bali & Indonesia. Give us a call or send us an email. You will not be disappointed!
We look forward to welcoming you as one of our valued clients.
The Bali Products Team