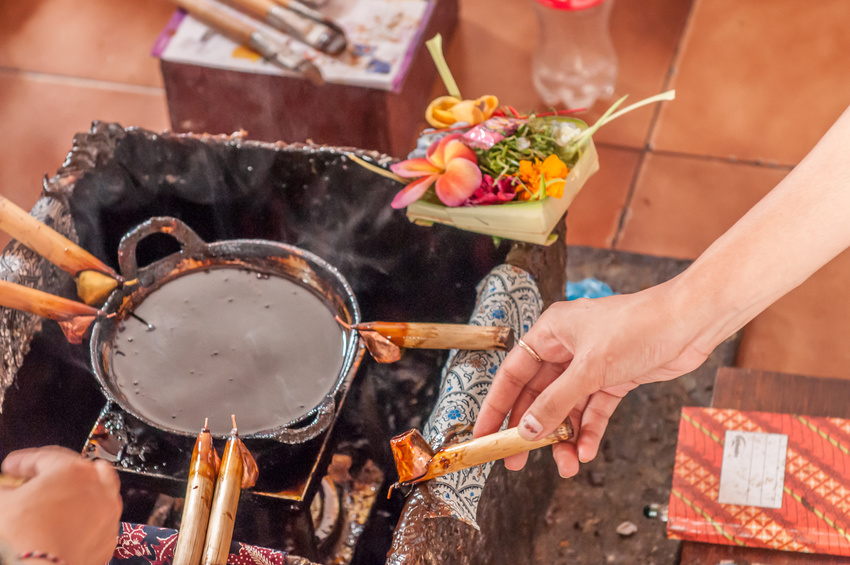 shopping for batik clothing?
find out why we are the no.1 online shopping store for batik clothing worldwide
Looking for batik clothing? Look no further! Find out why we are the No.1 Online Shopping Store for everything to do with batik worldwide. Great products at great prices. Wholesale & retail. Global shipping. Shop & save!
Batik has been part of Indonesian culture for centuries. It was developed in Java, by the ladies in the palace courts, to be used by royalty. Certain patterns were exclusive for nobility. Wider stripes or wavy lines showed the person's royal lineage.
Originally, batik was used for the traditional sarong, a piece of cloth, that was wrapped around the body. This was the exclusive piece of clothing worn by Indonesians for hundreds of years. As more modern attire was introduced to Indonesia, so has batik been adapted to be used to make more than simply sarongs. Now shirts, dresses and shawls can be found using this traditional fabric.
how batik is made
Batik is made using a wax resistance process. Traditionally bees wax and tree resin is used. Lines and shapes are drawn on the fabric, using hot wax. This is a time consuming process, and requires great patience and skill. Once the wax pattern has been created, the fabric is then dyed. Where the wax was applied, the fabric retains its original color. This process is repeated and finally the wax is removed, revealing a colorful, uniquely patterned fabric.
Traditionally, 3 colors were used for batik. Indigo, dark brown and white, representing the 3 Hindu Gods (Brahma, Vishnu and Siva). The patterns used were also very specific and had very clear meaning. Today, batik is more fashion conscious, and uses a large array of colors, depending on the season. The patterns used have also evolved, and the designers have much more of a free hand in what they can create.
batik clothing patterns
The patterns used in batik clothing vary depending on which region they were produced. However, the overlying theme is a naturalistic one. The patterns are strongly inspired by flora. This can be seen in the leaves, flowers and swirly plant motifs. The other influence is fauna, which is evident in the bird motifs, such as peacocks and butterflies. These look particularly beautiful when used to create a flowing dress or skirt.
These patterns are repeated across the fabric, and sometimes on both front and back so garments can be worn both ways. This repeated pattern gives a wonderful flow to the fabric, and makes it fascinating to look at as the person wearing the garment moves around.
You can see the complete range of clothing & accessories we sell – beach clothing, women's/men's/children's clothing, batik clothing, handbags, shoes, belts, sandals, shawls etc by clicking on our Clothing & Accessories Catalog link.
batik shirts
Shirts were the first non sarong clothing to be produced out of batik. The first batik shirts were made in the 1960's, not long after Indonesian Independance, to be worn as a formal piece of clothing. These shirts were worn in government offices, as a sign of patriotism. To this day, offices in Indonesia encourage their staff to wear batik clothing every Friday.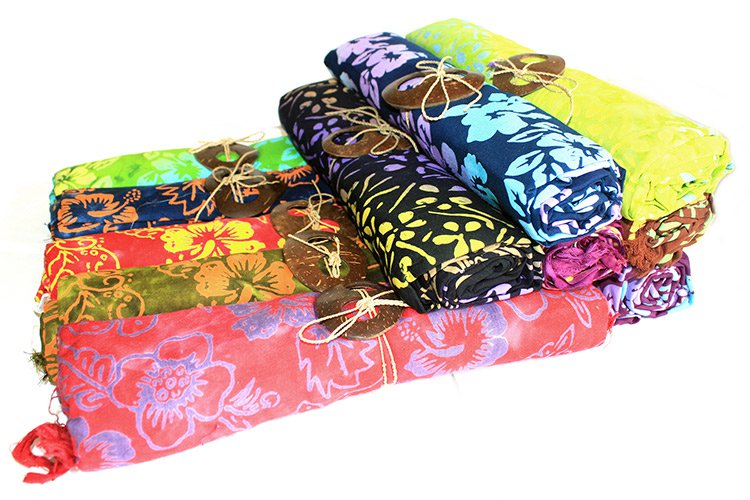 Fashion designers have taken this traditionally somber piece of clothing, and have created a number of different versions for both men and women.
batik dresses and scarves
If you go to any spa in Bali, you will notice that the beautiful uniforms the staff are wearing are usually made of batik. These batik clothing costumes are very flattering and compliment the serene atmosphere in the spa. It is a common design to use for uniforms, but designers have taken it way beyond that.
These days, all kinds of very stylish dresses are available. There are dresses made of plain colors, with just an accent of batik around the neckline. Or there are full flowing batik dresses. Long figure hugging ones, or short flirty flowing ones. Anything you can find in other fabrics are now available in batik.
Batik scarves are also available in any color and length. These fashion accessories can be used to brighten up any outfit.
our clothing & accessories catalog
You can see the complete range of clothing & accessories we sell – beach clothing, women's/men's/children's clothing, batik clothing, handbags, shoes, belts, sandals, shawls etc by clicking on our Clothing & Accessories Catalog link.
So want to see our catalogs and see what you can buy online? Check out our extensive product range. You can browse all of the products we have for sale by browsing all of our online shopping stores catalogs on the side bar.
And if what you are looking to buy can't be found in our own Online Shopping Store Catalogs, don't worry…..we will either source it for you, design it with you, or arrange to have it made by one of our quality vendors!
So find out why we are the Number 1 Online Shopping Stores Website & Sourcing Agency in Bali & Indonesia. Give us a call or send us an email. You will not be disappointed!
We look forward to welcoming you as one of our valued clients.
The Bali Products Team