shopping for a sarong dress?
find out why we are the no.1 online shopping store for sarong dresses worldwide!
Looking for a Sarong Dress? Then look no further! Find out why we are the No.1 Online Shopping Store worldwide for every type of Sarong you could want. Great products at great prices. Wholesale & retail. Global shipping. Shop & save!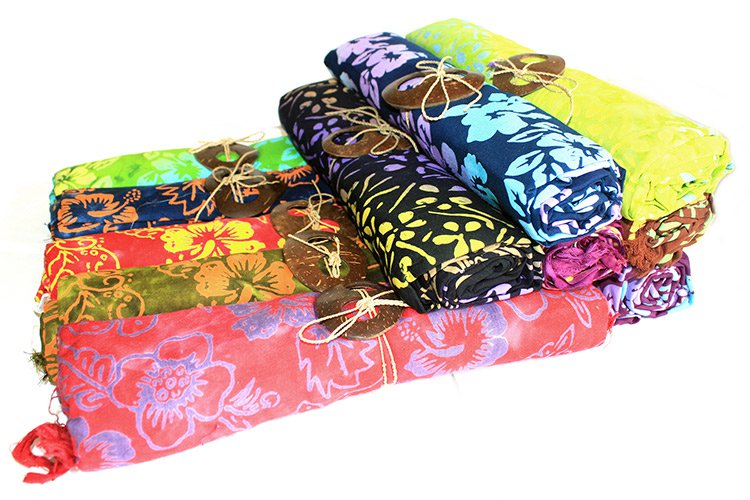 The sarong is a traditional form of clothing for many different cultures around the world. It is a simple piece of flat cloth that is wrapped around the body. In Bali the traditional form is worn to the temples,and there are many beautiful batik versions available. These traditional sarongs are worn with lacy kabayas for the women, or white shirt jackets for the men. The colorful cotton style is used mostly by visitors to the island, but the Balinese can also be found wearing this around the house when they are relaxing.
This style of clothing is particularly appropriate for hot climates, as the thin fabric keeps the body cool. The wrap around style comes in a variety of colors and fabrics, from cotton, to silks. Being such versatile pieces of clothing these are great to use while you are in Bali. With its beach culture, it is the perfect item to have with you. It can be used as a shawl, a skirt or a dress.
You can check out all of the different types of Sarongs we sell – Dress, Beach, Mens, Tie Dye, Batik etc. by clicking on our Sarongs Catalog link.
sarong dress styles
Sarongs can be used to create several styles of dress, from the classic tie behind the neck, to the more sophisticated strapless, and the classy over the shoulder look. All styles are very simple to create and a perfect way to cover your body while walking to and from the beach.
The style you choose will depend on the look that you are trying to create, and how comfortable you feel. You can even experiment with your own individual style. The possibilities are limitless. Here are a few that we suggest.
the classic dress
The classic sarong dress is created very easily. Wrap the fabric around your body. Take both ends in front of your chest. Twist the ends, and bring them behind your head. Finally, tie in a knot behind your head. The knot can be left as a simple knot, or dressed up with one of the many sarong buckles available.
This little girl look is the easiest and fastest way to tie your sarong dress. It allows for easy movement, as there is no way it will fall off, provided you tie a secure knot. By tying around your neck, there is extra fabric at the front, so the dress hangs nicely, and also gives plenty of room for moving around.
the strapless dress
To create this sophisticated look with a sarong dress, wrap the fabric around your body and tie the ends. The ends can be tied behind your back if the fabric is long enough, or in front if too short. This leaves your chest bare, so a pretty beaded necklace can be worn together with this outfit, to brighten up your bare skin.
This is the perfect dress to wear when going to or from the beach, or when you want to have a casual look. The strapless dress works best on women with larger chests, which helps to keep the fabric up. This style also allows for easy movement, but be sure you tie tight, to avoid any slipping.
You can check out all of the different types of Sarongs we sell – Dress, Beach, Mens, Tie Dye, Batik etc. by clicking on our Sarongs Catalog link.
over the shoulder dress
This classy look is a little harder to create, but still fairly simple. Hold one end of your sarong dress over the left shoulder, pull the other end around the back of your body, and tie to the end on the left shoulder. Again, you can make a simple knot, or this look works great when tied with a sarong buckle.
This is the classic roman look, and topped with a great hat, is an elegant and stylish way to dine or relax in Bali. This is also very easy to walk in, and will not slip about. The silk fabrics look particularly good when worn this way.
our sarong catalog
You can check out all of the different types of Sarongs we sell – Dress, Beach, Mens, Tie Dye, Batik etc. by clicking on our Sarongs Catalog link.
So want to see our catalogs and see what you can buy online? Check out our extensive product range. You can browse all of the products we have for sale by browsing all of our online shopping stores catalogs on the side bar.
And if what you are looking to buy can't be found in our own Online Shopping Store Catalogs, don't worry…..we will either source it for you, design it with you, or arrange to have it made by one of our quality vendors!
So find out why we are the Number 1 Online Shopping Stores Website & Sourcing Agency in Bali & Indonesia. Give us a call or send us an email. You will not be disappointed!
We look forward to welcoming you as one of our valued clients.
The Bali Products Team