Shopping for Balinese carvings?
Find out why we are the no.1 online shopping store for
everything to do with carvings from Bali
Shopping for Balinese Carvings? Look no further! We sell the very best carvings from Bali at the best prices. Browse our extensive Bali Carvings catalog. Wholesale & retail. Worldwide shipping. Shop & Save!
Bali has a long history of wood carving, that goes back to the time when the island was ruled by Kings. The temples and palaces are carved on a grand scale, with decorative doors and panels. These are carved in the forms of Gods and demons, as well as mythical creatures. Some have gilded accents to give an impression of wealth and power.
These traditional Balinese carvings can still be seen to this day, on the temples and houses of the local residents. More contemporary styles have developed with the influx of foreign visitors, and there are various styles of handicrafts and furniture on offer for visitors to buy.
Balinese carvings have a very distinct style that cannot be found anywhere else in the world. The intricate details are the trademark of the local artisans. These carving skills have been passed down through the generations and are a testament to the true Balinese culture.
You can check out all of the different types of Bali Wood Carvings we sell by clicking on our Wood Carvings Catalog on the side bar.
Traditional style Balinese carvings
Traditionally, wood was used to make household features such as wooden beams, doors and room dividers. These were all made with wonderful carved details, the inspiration for which was taken from nature. Flowers and leaves, as well birds and butterflies all feature greatly in these Balinese carvings.
These doors and room dividers make great decorative items for any setting, and they can be found in various sizes, There is also the possibility of ordering them custom made, to fit your specific needs.
Another popular traditional style of Balinese carvings are the famous masks that are made here. These hold a deep spiritual meaning for the Balinese people, and are held in high regard. Masks are used to cover the faces of the dancers performing traditional Balinese dances, and when not in use, they are stored in a safe place in the temple.
Masks take many different forms, and are carved out of wood, that is sanded to a smooth finish, and coated with several layers of paint to achieve a glossy look. These masks make great wall decorations in your home.
Modern Balinese carvings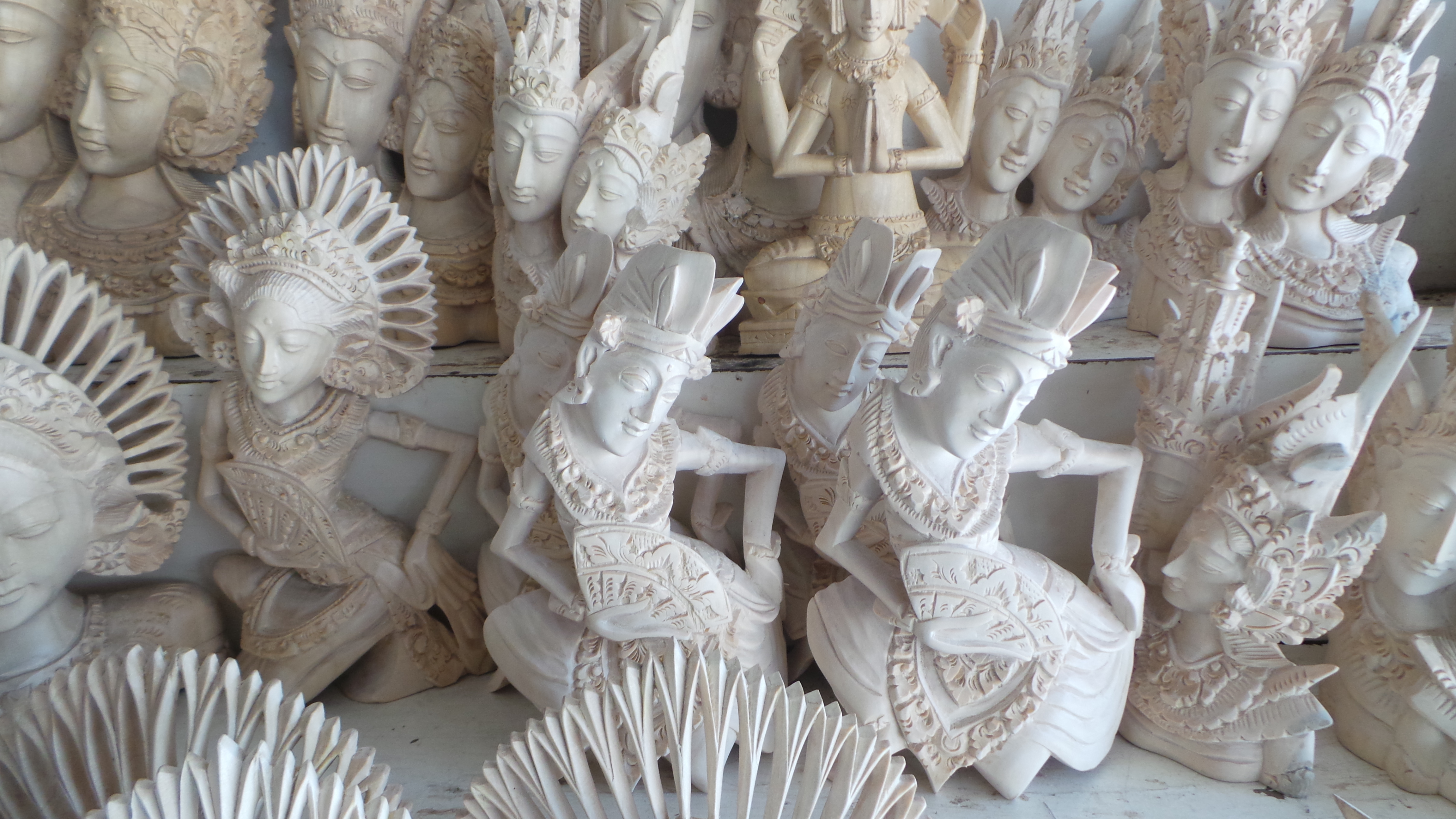 Modern carvings are made to appeal to the visitors to the island. The local artists were taught and encouraged by the foreign artists that settled here, such as Spies and Bonnet, and this resulted in a booming trade of wooden sculptures and handicrafts.
The Balinese wood carvers enjoy experimenting in different styles, and they have turned their skills to making some wonderful carved objects. You can find delicately carved animals and birds that are either highly realistic, or in abstract caricature shapes.
Tree roots or branches are crafted in to wonderful pieces of furniture, or sculptures, following the natural shape of the wood. These make great modern displays for any setting.
You can check out all of the different types of Bali Wood Carvings we sell by clicking on our Wood Carvings Catalog on the side bar.
Materials used for a Balinese carvings
There are many different materials used for the carvings,the most common are wood and stone. There are several types of wood used, such as jackfruit, ebony, teak, as well as sandalwood. This beautifully scented wood is used in mask making and has a wonderfully pale color.
Wood carving is a skill requiring great precision. The carver starts with a block of wood, which he chips away at using very simple tools. The artist works with the natural grain of the wood often using it to portay the veins on the arms of the sculpted figure.
When the carving is finished, the wood is polished by rubbing with bamboo, and stained with oils to achieve a shine.
There are also some very interesting carvings created out of buffalo horns and sea shells. These are often used for smaller items such as jewelry and small ornamental pieces. The natural shine of the horn is very appealing.
Buy from our Bali carvings catalog
You can check out all of the different types of Bali Wood Carvings we sell by clicking on our Wood Carvings Catalog on the side bar.
So want to see our catalogs and see what you can buy online? Check out our extensive product range. You can browse all of the products we have for sale by browsing all of our online shopping stores catalogs on the side bar.
And if what you are looking to buy can't be found in our own Online Shopping Store Catalogs, don't worry…..we will either source it for you, design it with you, or arrange to have it made by one of our quality vendors!
So find out why we are the Number 1 Online Shopping Stores Website & Sourcing Agency in Bali & Indonesia. Give us a call or send us an email. You will not be disappointed!
We look forward to welcoming you as one of our valued clients.
The Bali Products Team