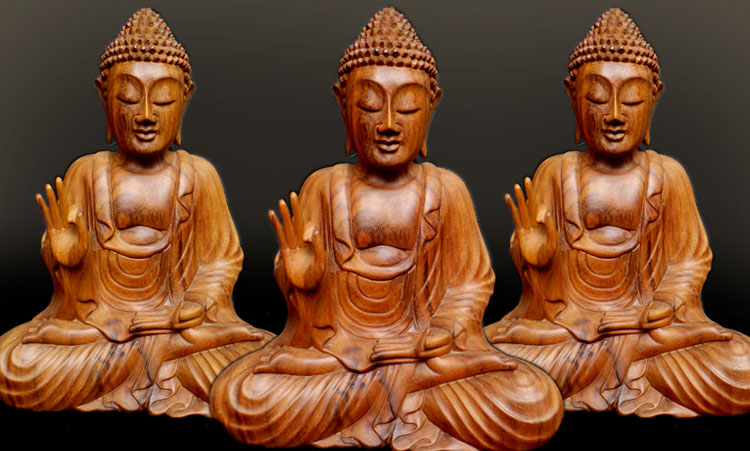 Shopping for a Bali wooden statue?
Find out why we are the no.1 online shopping store for everything to do with carvings from Bali
Shopping for a Bali Wooden Statue? Look no further! We sell the very best wooden statues from Bali at the best prices. Browse our extensive Bali Carvings catalog. Wholesale & retail. Worldwide shipping. Shop & Save!
One of the most popular products produced in Bali is the wooden statue. The talented Balinese wood carvers make a wide range of products from small figurines to large imposing statues.
The themes for the statues range from Balinese dancers, to mythical creatures and animals. They are finished in natural wood tones or hand painted in a wide range of colors.
Carving wood requires a great deal of patience and precision. The carvers start with a block of wood, which they cut down to the size required. They then use very simple tools to carve in to the wood to create the desired image.
Workshops can be found in almost every village, where the carvers are sitting on the floor, surrounded by wood shavings. Whole families work side by side to create these wooden masterpieces.
You can check out all of the different types of Bali Wood Carvings we sell by clicking on our Wood Carvings Catalog on the side bar.
Types of wood used in Bali carvings
There are many different types of wood available in Bali, and each has its own unique look. Coconut wood has a beautiful grain running through it, which brings a special quality to any Bali wooden statue. Dark ebony wood brings a wonderful beauty to the piece, and teak and jack fruit are also very popular fine grained woods to use.
Wood carvers work with the natural grain of the wood, to bring dimension to the Bali wooden statue. The wood is sanded over and over until it is very smooth, and a shine is created by rubbing with a piece of bamboo.
These smooth and shiny pieces are absolutely exquisite to the eye and make beautiful decorations. Such care is taken in every detail of a Bali wooden statue, and the fact that each piece is carved by hand means that you really are buying a unique piece.
Bali wooden statue dancers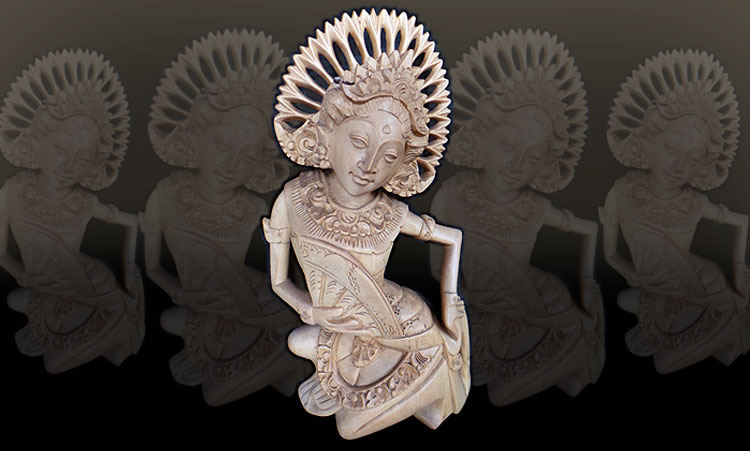 The Balinese dancers are so beautiful and graceful, it is no wonder that artists have been intrigued with them for years. Many works of art have been devoted to this elegant image. A Balinese dancer depicted in mid dance flow is one of the most popular types of Bali wooden statue to be found.
A statue of a dancer, in a classically angular pose, holding a fan, and wearing an ornate headdress is a great souvenir to remember Bali by. So much care goes in to each tiny detail of the face, and costume, one statue can take days to make. These dancer statues come in a variety of sizes, and are carved out of several different types of wood.
A statue left in the natural wood color makes an elegant decoration, or, if you prefer some color, a hand painted one can recreate the colors of the dancers costumes and bring it to life.
You can check out all of the different types of Bali Wood Carvings we sell by clicking on our Wood Carvings Catalog on the side bar.
Contemporary Bali wooden statue
Over the years, with the influx of tourism and wholesale handicraft businesses for export, the style of Balinese wooden statues has evolved to suit the market.
Brightly colored statues of cats can be seen everywhere, and these are very popular with cat lovers the world over. These cat statues are available in a variety of sizes and styles, from simple black and white to multicolored versions.
Other contemporary styles depict human forms, such as a Balinese man, holding his fighting cockerel. Two people holding each other in an embrace is another popular form and makes a great present for a young couple.
These contemporary Bali wooden statues are made with less detail than the more traditional style, focusing more on creating smooth, sleek lines and abstract figures.
Stylized human and animal statues make great art displays in your home, placed on a shelf or table, and lit with some carefully placed lighting.
Buy from our Bali carvings catalog
You can check out all of the different types of Bali Wood Carvings we sell by clicking on our Wood Carvings Catalog on the side bar.
So want to see our catalogs and see what you can buy online? Check out our extensive product range. You can browse all of the products we have for sale by browsing all of our online shopping stores catalogs on the side bar.
And if what you are looking to buy can't be found in our own Online Shopping Store Catalogs, don't worry…..we will either source it for you, design it with you, or arrange to have it made by one of our quality vendors!
So find out why we are the Number 1 Online Shopping Stores Website & Sourcing Agency in Bali & Indonesia. Give us a call or send us an email. You will not be disappointed!
We look forward to welcoming you as one of our valued clients.
The Bali Products Team