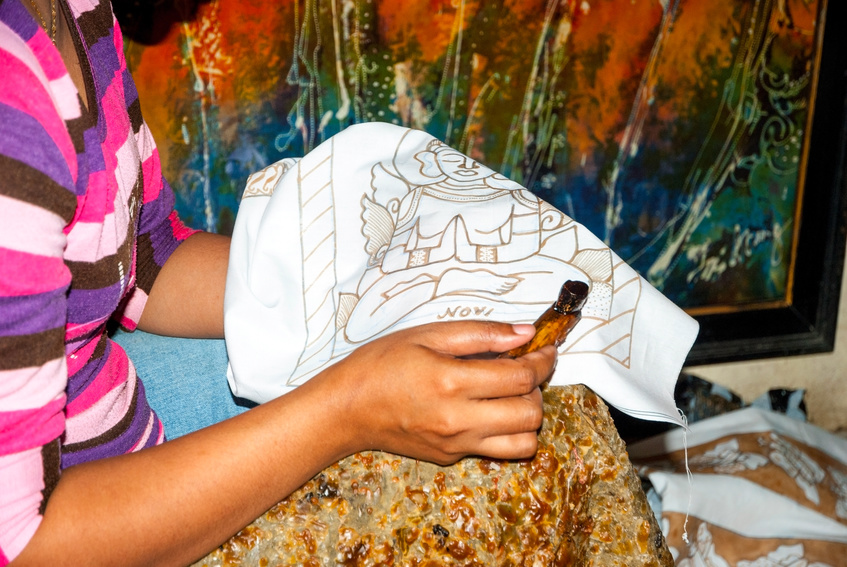 Shopping for an Indonesian painting?
Find out why we are the no.1 online shopping store
for everthing to do with Indonesian art
Shopping for an Indonesian Painting? Look no further! We sell the very best Art from Indonesia at the best prices. Extensive Catalog. Wholesale & retail. Worldwide shipping. Shop & save!
Indonesia is an expansive country, that has a very rich history. Art plays a very important role in the culture, and has done for thousands of years. Cave paintings, thought to be at least five thousand years old have been discovered in Sulawesi and Irian Jaya. These depict both human and animal figures, and give an insight to the relationships between them.
Other platforms that have been used to display Indonesian painting include tree bark and cloth. The art of decorating cloth is a form of painting, by the use of wax and dye, called batik. This is still a very popular form of art, and is sought by collectors from all over the world.
An Indonesian painting can be found in various styles, from traditional rice field scenes, to more modern avant garde styles, that are used to make a statement on the political scene. Indonesian artists have formed organizations over the years, and they tend to congregate in certain areas, such as Bali and Yogyakarta.
You can check out all of the different types of Pictures, Paintings & Art we Sell from Bali & Indonesia by clicking on our Pictures, Paintings & Art Catalog link on the side bar.
Symbolism in Indonesian painting
A traditional Indonesian painting is rich in symbolism. Gods, demons, and ancient stories of love and warfare are often used, as well as motifs drawn from nature. Leaves, flowers, mountains and water are recurring themes. The Indonesian people live very closely with nature and they show their reverence in the paintings that they create.
Balinese paintings show people and animals working side by side in the rice fields. These paintings are very detailed and every inch of space is filled. You could spend hours looking at one of these paintings, inspecting all the tiny details, and in doing so would get a very clear idea of life at that time.
The epic Hindu story about Rama and Sinta known as Ramayana serves as inspiration in many works of art, from sculptures, to masks, as well as paintings. This story contains religious, moral and philosophical lessons, by which the Indonesian people live their lives. Many paintings can be found with these characters portrayed in various scenes from the story.
Traditional Indonesian painting
A traditional painting style from Indonesia varies depending on which island the artist is from. The main inspiration is taken from nature, so a Balinese artist paints rice fields and village scenes. An artist from another island may focus more on the ocean or the forests and mountains.
Mysticism, naturalism and expressionism are all displayed in an Indonesian painting. Primary colors and two dimensional designs are the most common features.
In Bali, people are the focal point of the painting, whereas artists from islands that follow the Islamic faith would not include human figures, as this is prohibited in their beliefs.  Paintings are created on wood, canvas or paper and can be found in various sizes.
You can check out all of the different types of Pictures, Paintings & Art we Sell from Bali & Indonesia by clicking on our Pictures, Paintings & Art Catalog link on the side bar.
Modern Indonesian painting
Over the years, several foreign artists have been drawn to the artistic communities in Indonesia, and have brought their styles with them. Indonesian artists have adopted these styles, and incorporated them in to their own paintings. As freedom of expression became more permissible, art has been used as a form of political expression.
Modern painting styles are made using very bold colors and combining traditional motifs with various experimental techniques. These are very popular with the international market. The Balinese in particular have learned to please the market, and are able to paint in any style the customer may wish.
The Indonesian artists aim to keep up with the times, while still preserving and upholding their cultural identity. They are proud of their heritage and by continuing to portray it in their paintings, they will ensure that it will never be forgotten.
Our Indonesian pictures, paintings & art catalog
You can check out all of the different types of Pictures, Paintings & Art we Sell from Bali & Indonesia by clicking on our Pictures, Paintings & Art Catalog link on the side bar.
So want to see our catalogs and see what you can buy online? Check out our extensive product range. You can browse all of the products we have for sale by browsing all of our online shopping stores catalogs on the side bar.
And if what you are looking to buy can't be found in our own Online Shopping Store Catalogs, don't worry…..we will either source it for you, design it with you, or arrange to have it made by one of our quality vendors!
So find out why we are the Number 1 Online Shopping Stores Website & Sourcing Agency in Bali & Indonesia. Give us a call or send us an email. You will not be disappointed!
We look forward to welcoming you as one of our valued clients.
The Bali Products Team