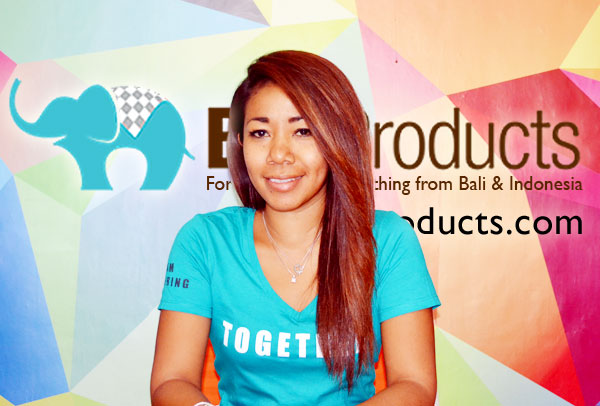 Salam Hangat dari Bali Products,
Kami, Bali Products adalah perusahaan yang bergerak dibidang Online Shopping (e-commerce) dan Pemasaran Produk – Produk Art & Crafts melalui internet. Bersama ini Kami menawarkan kerjasama kepada Bapak / Ibu untuk menjadi bagian dari Bali Products Online Trading Community dalam penjualan dan pemasaran produk produk Bali seperti: fashion, jewelry, accessories, furniture dan handicraft melalui website kami: www.baliproducts.com.
Kami bekerjasama dengan para pembeli dan pebisnis dari luar negeri diantaranya adalah Fashion / Interior Desainer, Project Procurement Company, Importir dan pemilik toko- toko grosir dalam pengadaan produk produk dari Bali dan Indonesia.
Adapun service kami adalah Online Shopping Catalog, Shopping Tours, Products Sourcing Trips, Custom Made Products, Interior Solution dan Export & Quality Control. Online Shopping Catalog kami meliputi beberapa product category seperti: Clothing & Accessories, Sarong, Silver Jewelry, Furniture, Home Decor, Handicraft, Occasional Gifts, dan Branded items.
Dengan bergabung sebagai Vendor Bali Products, Bapak / Ibu dapat menampilkan produk produk unggulan dalam Online Catalog kami sesuai dengan products category yang telah ditentukan. Disamping itu kami juga akan memasukkan perusahaan Bapak / Ibu dalam Itinerary List (tempat yang akan dikunjungi) dalam program Shopping Tours dan Products Sourcing Trips.
Besar harapan kami, Bapak / Ibu dapat bergabung menjadi bagian dalam Bali Products Online Trading Community.
Salam,
Ayu Rahayu
General Manager
Warmest greetings from Bali Products, the Number 1 Online Shopping Stores Website & Sourcing Agency in Bali & Indonesia.
So What Do We Do? Simple. Bali Products delivers great wholesale products at great prices. We do this in two ways: We are an established and successful Online Wholesale Shopping Store, offering overseas retailers a worry free direct purchase online of wholesale products from Bali & Indonesia. We are also a Wholesale Product Sourcing & Buying Agent for custom product design, manufacturing and wholesale product sourcing.
Who buys from us? We cater for wholesale importers and retailers sourcing select finished accessory products and furnishings from Bali and Indonesia for their retail stores; commercial wholesalers, importers and retailers wanting to purchase interior luxury furnishings, furniture ranges and product accessories from Bali & Indonesia for wholesale or retail outlets, chains, online stores and shops; home ware, furnishings and fashion accessory suppliers and owners seeking private/white label products and made-to-order/custom product ranges; corporate event, meetings & conference organizers looking for corporate promotional gifts and promotional support products; and overseas (or on-island) interior designers & decorators fitting out luxury homes, hotels, villas and resort projects.
What wholesale products do we sell? We offer a range of online wholesale shopping product catalogs, which include: Fashion; Clothing; Beads; Silver Jewelry; Corporate Gifts; Aromatherapy; Non-Silver Jewelry; Home Decor; Shoes; Bags; Handicraft; Candles; Sarongs; Furniture; Art & Paintings; Gifts; Fabrics; Branded Products and Souvenirs.
What services do we offer? In addition to our Online Wholesale Shopping Store Catalogs, we also offer anyone interested in purchasing wholesale products from Bali & Indonesia, with a one-stop, full service product sourcing, manufacturing and buying agency solution. Our integrated product service offerings include: a tailored and customized shopping tour for personal shoppers; wholesale product sourcing trips & buying agency services for wholesale buyers; a product custom design & made-to-order service; a Bali style interior furnishing service for hotel and villa owners and designers; a product export, cargo & shipping service; and a product private label & branding service.
So what does this have to do with you? We are now seeking leading manufacturers and vendors of quality products in Bali to become members of our Bali Products Partners Community. As a select Bali Products Partner Member, we work together with you to increase your product sales. We do this by 1. Showcasing and listing your products directly online to shoppers in one of our online store catalogs – resulting in direct online sales of your products; and 2. By listing you as a preferred vendor on our many sourcing and custom design product tours with overseas customers – we bring buyers directly to you, resulting in customers working one-one with you to design custom made-to-order products, and again increasing sales.
We would like to ask you to join and become a member of our Bali Products Partners Community. There is no cost or any hidden catches. We have the market – you have the products. So lets partner and work together so we both benefit.
So what do I do next? If you want to increase sales, ask us how it works. We look forward to welcoming you as a member of our Bali Products Partners Community.
Yours faithfully,
Ayu Rahayu
General Manager